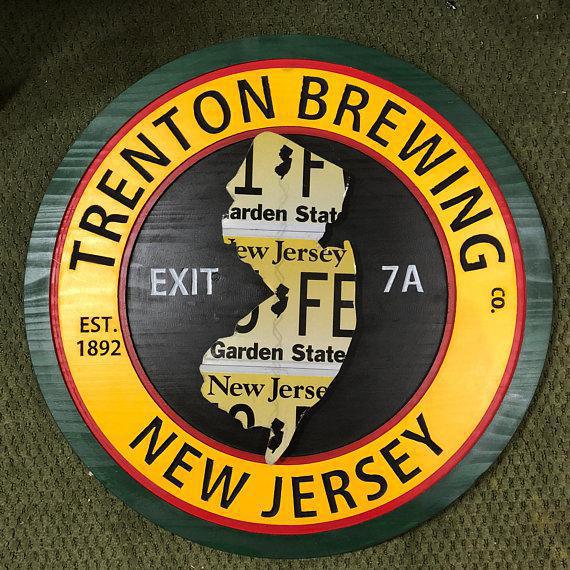 Mark Fenton always loved the hands-on creative process, but it took a horrific day job to turn him into a working artist.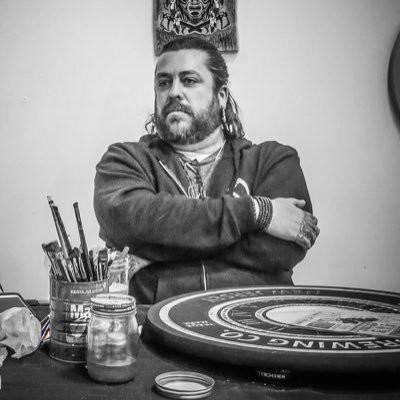 He learned woodworking from his dad, and he studied art at Ewing High School near Trenton, trying all sorts of media. He went on to study graphic design at Antonelli Institute in Philadelphia. "But my part-time work as an auto mechanic, seemed more practical, so I cut my studies short and worked at it full-time," he recalls.

"From there I got a much-cleaner job installing home-entertainment systems, eventually shifting over to installing cable TV for a big corporation." Despite the company's "negative atmosphere," he was there 15 years, working his way up to become supervisor of technical operations.

His neighbor was a sign painter, specializing in lettering and embellishing vehicles and storefronts. Mark would help him, as kind of a weekend apprentice, learning the "controlled strokes and deliberate movements" you need for pin striping a muscle car or applying gold leaf to a fire engine.

But his workweek was a different story. Mark and his installers were all overworked, toiling in a pressure-cooker, with the heat turned up by harsh executives and chronically aggrieved customers.

Something had to give, and it was Mark. Incapacitated by depression, anxiety and dependence on pharmaceuticals, he augmented his professional care with yoga, meditation, photography and woodworking "to get myself back on the rails."

With a family to support, Mark and his wife, Tina, wondered if they could afford to take the pressure off with a career change. A deciding factor was a remark from one of their sons: "Dad, you're so much nicer when you're not at work."

Mark would devote himself full-time to photography. He did unchallenging corporate work, shooting events and taking head shots. On the artistic side, he took ambitious black-and-white photographs. Although they did not click with the art-buying public at craft shows, a few samples of his wooden wall art were eagerly purchased. For Mark, art is not a soliloquy to be launched into the void; it's something to share with other human beings. So his path was chosen for him.

Out of the pressure-cooker since 2012, Mark works in a two-story backyard studio, where his two young sons come and go. Upstairs, surrounded by ad art, books, and old bits of machinery that please and inspire him, he creates his designs. Downstairs, he implements those designs with his band saw, planers, jig saw, belt sander, drill press and computer-guided router and a variety of hand tools – including paint brushes. He also has anvils and forges for metal work.

"I don't want to be a commercial sign shop because I do it for the artwork," he says. But if he's given a cool design to execute "and it's something I can get passionate about, it's something I'll investigate," he says.

He likes to inject local color into his creations. His much-advertised Trenton Brewing Co. closed in 1899, but he likes the name. "I look at local history and think of ways to carve it." For example, don't try to book a room at the Eagles Cliff B&B on Mohonk Mountain near the Catskills. "People love that mountain, and there is an Eagles Cliff there, so the reference is meaningful to people in that area."

Sometimes he'll be commissioned to create an indoor sign for a home or a business. But then there's the pressure of a deadline and the stressful question of: Will they like it?

"It's the shows that I love doing," says Mark. "It's the meeting new people, talking to new people." Like an entertainer who thrives on the feedback of a live audience, Mark is guided and energized by the comments and conversation of the shoppers at these venues.

Recently Mark, who lives in Bordentown, has joined forces with artists Heather Brainard of Hamilton and Laura Pointon of Flemington to form Hand Made Studios and Artisan Markets. They host shows on both sides of the Delaware to showcase their wares and those of carefully screened artists and artisans. They'd better not change the name, because HAND MADE is tattooed across his fists in ornate letters.

With ongoing experience in the therapeutic benefits of making art, Mark chairs Bordentown Residents Against Drugs. He works with the substance-abuse counselor at the local high school, helping students to "get things out visually." Whether the feelings are positive or negative, whether the resulting artwork is to be shared or kept private, Mark is glad to be "teaching another coping skill to deal with life."

Back in the studio, he is happiest working at his own speed and taking himself in new directions, then seeing whether his latest work will stop traffic at a show. "If I have an idea, I give it a go. Experiments often produce happy accidents. There's no such thing as failure; it's another kind of discovery."

His work has become more polished, his attitude more confident. He has been putting his wall art to work as clocks or trophies; using some Native American themes; cutting up license plates to accent some of his New Jersey items; adding some flash with mirrors; trying out rectangular shapes; and putting people into his artwork, including mermaids (pin-up girls of the deep) and his own vixenish Jersey Devil. He also cuts some of his designs all the way through the wood, pours translucent resin into the voids, then back-lights it for a dramatic effect.

"I always have to make sure things are growing and changing or people will walk right past me, thinking they've seen it before. So it's always something new," he says.

Reclaimed materials are another growth area, as exemplified by the rectangular sign he made from an old barn beam, advertising the fictitious Brown Dog Saloon (an affectionate homage to the unsuspecting family pet, Hershey). The recycling is in harmony with the family's lifestyle, which includes roof-top solar panels and enough enough home-grown vegetables to last the winter.

His young sons draw pictures in the studio and they help set up and break down the shows. It says "Fenton & Sons" on the side of his truck. But it's one of his old-style, semi-fictitious company names, albeit one that resonates for a different reason. It's a nod to the family priorities that light the way along his path.