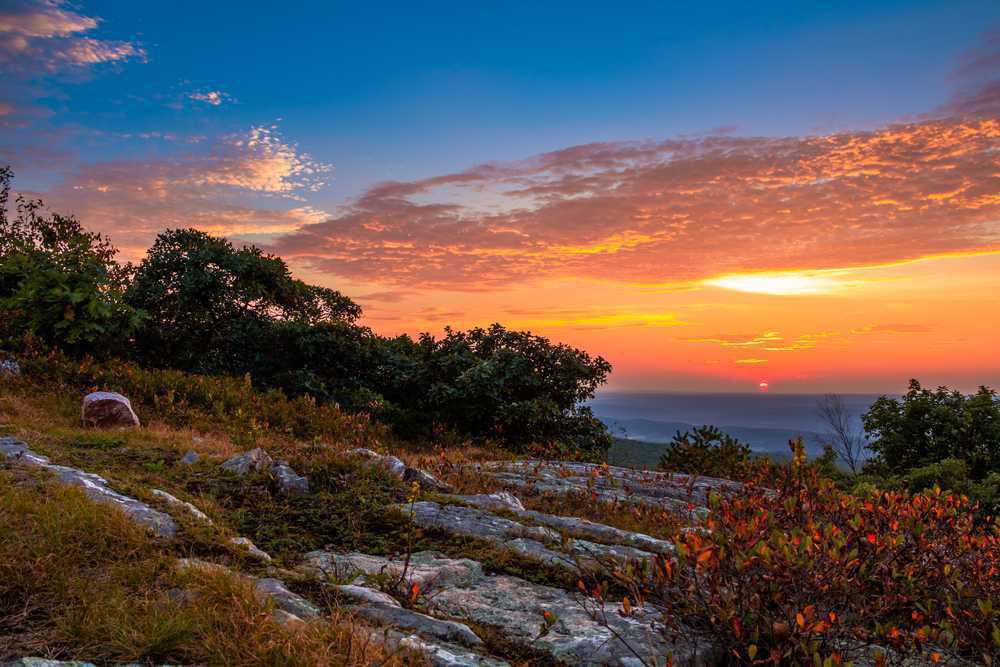 Open daily
April 1 through October 31: 8:00 am to 8:00 pm
November 1 through March 31: 8:00 am to 4:30 pm
Park Office:
Open Daily November 1 through the week before Memorial Day: 8am to 4pm
Extended weekend hours Memorial Day weekend through October 31 as staffing permits
18 miles of the Appalachian Trail follows the Kittatinny Mountain Ridge through High Point State Park. This trail's designated use is restricted to hiking only for its entire length from Maine to Georgia. White blazes mark this narrow and sometimes very rocky trail.
To the south, the Appalachian Trail follows a rocky ridge which offers many scenic views of the valleys and mountains surrounding the area. To the north, the trail drops off the ridge through hemlock gorges into former agricultural fields with a view of the surrounding countryside and the High Point Monument in the distance.
There are 3 designated overnight shelters: Mashipacong shelter, Rutherford shelter and High Point shelter. These are the only overnight locations that allow you to stay overnight on the trail. Camping is limited to 1 night per shelter.
Each shelter has a bear box
No fires are permitted at the shelters or on State of NJ property
Pets must be leashed at all times
Carry out all trash
10 people maximum per shelter
Limited water sources can be found via a stream at High Point Shelter, or at the park office. You should plan to carry sufficient water for your hike as water along the trail may not be suitable for consumption. All water obtained along the trail should be chemically treated or boiled for 5 minutes.
No motor vehicles of any kind are permitted on AT. The Appalachian Trail is for foot travel only.
Overnight parking is located at the Appalachian Trail Parking Lot on Route 23 just South of the Park Office. A permit is required and can be obtained during Park Office business hours. This is the only designated overnight parking for the AT in High Point State Park